There is no better way to relax after a hard day's skiing than to completely unwind in our 80m² wellness area situated in the top floor.
Please take advantage of our modern Finnish sauna or our steam room, and use our relaxation area or our spacious roof-top terrace.
The Ischgl Lodge is one out of only a few hotels in Ischgl that offers a private on-site wellness area.
Of course, there are no additional charges for using these facilities.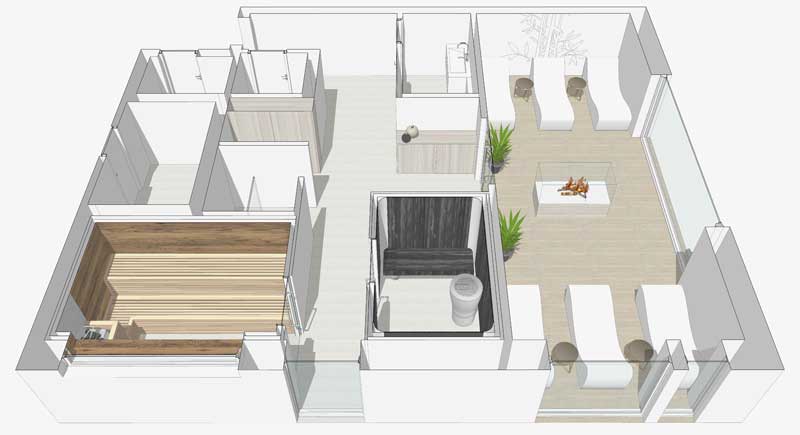 Our steam room GlamourSteamPro
The latest Starpool trend in the professional field pays homage to those ancient places appointed for personal well-being. This inspiration arises from the Arabic hamams and the ancient Roman baths that, hedonistic yet disciplined, adopted or adapted the best habits from the conquered lands.
The return to the past through a mix of sinuous and soft forms. The use of gold and silver enhances the value of the functional elements. The detailed working in anodised aluminium moulds these jewels together, giving them force and personality.
The interior hidden by natural and suffused light gives the impression of the threshold to a secret world. The lantern ceilings with their flush lighting recall the beams of natural light that are typical of the architecture found in ancient Turkish baths.
The careful choice of valuable materials for the coverings together with the latest techniques and technologies, all selected by Starpool ensure that Glamour Steam Pro offer high levels of hygiene.
The various coverings available range from the luminous materiality of the Eco Stone to the magical three-dimensional reflexes of the Crystal Glas. The fluted effect of the crystal recalls the classic world of the mosaic (Roman opus) without the need for grouted surfaces.